Dynamic Website Design
The dynamic web pages are those that are created by the same source code for the various companies. They are more expensive and are designed by the Website Development Companies for their valuable customers. It is designed and code using the server side scripting languages including the following:
Dynamic sites are developed by the Web Development Companies in Coimbatore and are more expensive in the initial phases of development. The advantages of the dynamic site are numerous. In the start the site allows the owner to add the new content and simply update the site. In these sites, the events and the news are easily posted and updated because they are given that simple and easy browser interface. The features that are used in such sites can only be stopped and limited by the imagination.
Some of the examples of the dynamic site are e-commerce system, discussion board, add information to the website, CMS (Content Management System) and much more.
Advantages of Dynamic Website
More functional website
Easier to update
Updated and need content brings audience aback to site and also assists in the Search engine optimization
It works like the system and allow the users or staff to interact with each other
Disadvantages of Dynamic Website
Slower and expensive to develop
Hosting cost is little high
Compare Dynamic Vs Static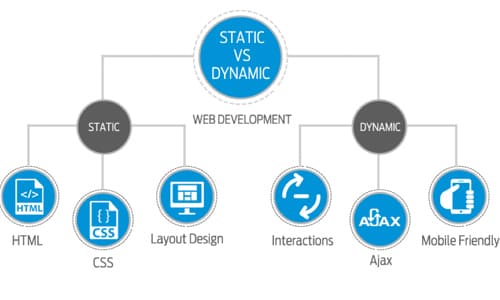 The dynamic website design is more fixed as compared to the static website. The dynamic website is designed by the professionals and required the cost to develop. At the initial level, the dynamic development cost looks like more expensive as compared to the static one. Not only the development cost of the dynamic website is high but the hosting of such websites is charged more from the customers.
Our Professional web designing team understands your business, and develops a web design and development strategy. Develops website with unique and professional web designs which attracts your business customers and increases the website visibility online.
Economic
No of Pages - 4
Mobile Responsive
Admin Panel
3 Banner Sliding
Image Gallery
-
-
-
Basic SEO
Contact / Enquiry Form
-
-
Free Web Hosting
Free Business Email Id
Deluxe
No of Pages - 8
Mobile Responsive
Admin Panel
5 Banner Sliding
Image Gallery
Video Gallery
Live Chat(Basic)
-
Basic SEO
Contact / Enquiry Form
Google Maps
-
Free Web Hosting
Free Business Email Id
Deluxe Pro
No of Pages - 20
Mobile Responsive
Admin Panel
7 Banner Sliding
Image Gallery
Youtube Integration
Live Chat(Basic)
Instagram Feed Integration
Basic SEO
Contact / Enquiry Form
Google Maps
Free Domain Name
Free Web Hosting
Free Business Email Id
*GST 18% will be additional on all the packages.